The Art Law Foundation aims to promote and coordinate, on a national and international level, the work and research on the most topical questions related to art and cultural heritage law.
The Foundation also supports the activities of the academic Art-Law Centre.
Friday March 10th, 2023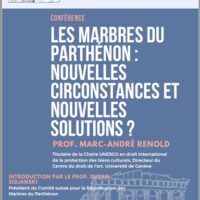 The Geneva Art-Law Centre (ALC) is pleased to invite you to the conference by Professor Marc-André Renold on « Les marbres du Parthénon : nouvelles circonstances et nouvelles solutions ? »  jointly organized with the Swiss Committee for the Return of the Parthenon Marbles. This event will be held on Monday 20th March 2023 at 6.30 pm at Uni... View Article
Wednesday September 7th, 2022
Human remains held by private or public entities (museums, universities, private collections, etc.) or retrieved from places of conflict raise numerous scientific, legal, ethical and social questions and call for special reflection. This is due to their specific status which differentiates them from other items of cultural heritage. The Art-Law Centre of the University of... View Article
16 November 2023
9:00am-1pm
(Français) La fascination exercée par l'art numérique, qu'il s'agisse d'œuvres d'art créées au moyen d'outils d'intelligence artificielle ou de NFTs (tokens non fongibles), conduit de nombreuses personnes (créateurs, collectionneurs, investisseurs, musées, sociétés technologiques et autres professionnels de l'art) à rejoindre ce marché. Ces nouvelles formes artistiques en plein essor sont en effet susceptibles de révolutionner le marché de l'art. Elles soulèvent en tout état de nombreuses questions juridiques et pratiques.
26 September 2023
9:00am - 12:45 pm BST
Innovative and adaptive:  Qualities the UK art market has demonstrated to stay competitive in 2023. As we look ahead to 2024, what can we learn from developments in recent months to shape the UK art market of tomorrow ? From Artificial Intelligence, to AML interventions and keeping artwork on the move.  Just some of the "hot topics" our expert speakers will be unpacking in this fast-paced seminar with 100% human intelligence applied !