The Art Law Foundation aims to promote and coordinate, on a national and international level, the work and research on the most topical questions related to art and cultural heritage law.
The Foundation also supports the activities of the academic Art-Law Centre.
Thursday April 9th, 2020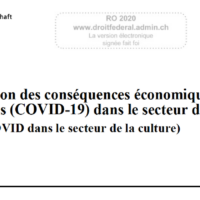 Note by Professor Henry Peter, Director of the Geneva Centre for Philanthropy (GCP) and Dr. Anne Laure Bandle, Director of the ALF and Academic Fellow of the GCP on the Swiss government's measures to support the cultural sector. The cultural sector is particularly affected by the very difficult situation resulting from the current containment and... View Article
(Français) Accès VIP à la foire, accueil par Madame Béatrice Guesnet-Micheli, responsable VIP & institutions, puis visite guidée exceptionnelle en compagnie d'un expert de l'Observatoire de l'art contemporain.
5 November 2020
8.30am-5pm
The ALF organizes jointly with the Art-Law Centre its annual conference on the Swiss copyright reform. Copyright protects artists and gives them the right to decide whether, when and how their work can be used. In Switzerland, the Copyright Act has just been modernized to adapt to the digital age. This reform affect users, archives,... View Article