The Art Law Foundation aims to promote and coordinate, on a national and international level, the work and research on the most topical questions related to art and cultural heritage law.
The Foundation also supports the activities of the academic Art-Law Centre.
Tuesday December 19th, 2017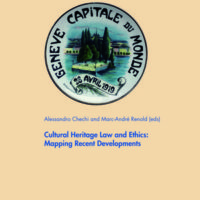 Cultural heritage is a unique and important testimony to the history and identity of different peoples and should be preserved in all circumstances. Regrettably, it is increasingly threatened in both peacetime and during conflict. This topic was discussed during the "Second All Art and Cultural Heritage Law Conference" organised by the Art-Law Centre of the... View Article
Monday November 27th, 2017
M. David Hiler, President of the board of directors of the Ports Francs et Entrepôts de Genève SA (Geneva freeports), presented on 22 novembre 2017 the new governance of the freeports at the conference "Art en mouvement" of the ALF, the Art-Law Centre, and the Geneva Association of Business Law. Please click below to access... View Article
See you in Paris on 6 April for a new "exclusive members" event in exceptional format since we invite you to join us for a VIP visit of Art Paris Art Fair, thanks to the kind collaboration of Mrs. Béatrice Guesnet Micheli. During this visit, we will have the opportunity to see the highlights of this year's fair, to which Switzerland is the guest of honour.
Two years ago, the Art Law Foundation launched a new series of lectures entitled The Art of Contracts. This series aims, on the one hand, to critically analyse contracts used in the context of transactions, services and performances related to art, whether by artists, collectors, galleries, auction houses or museums and, on the other hand, to contribute to the development of this practice by proposing model contracts that can serve as a basis for artists and actors in the art market. We are pleased to inform you that the third part of this series will take place at Sotheby's in Geneva on 18 April 2018 and will cover the topic of Photography and its various contractual aspects