Conference series Art Finance & Law – London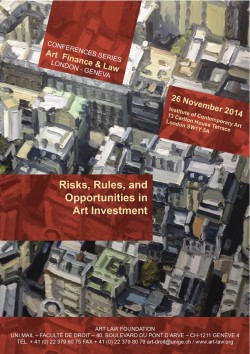 In 2014-2016, the Art Law Foundation organises a conference
series on Art Finance & Law held in London, Geneva and Paris.
The aim of the series is to examine the growing practice of art
investments, and the use of art as an investment asset. Various
top speakers from academia and practice will explore securitisation
of art as an asset, the differences between art funds
and hedge funds, the peculiarities of the portfolio and fund
management, the different types of loans against art collateral,
and the risks and rules for art investments. If you are involved
in the commerce of art – whether you are a private collector,
wealth manager, art dealer, auctioneer, investor, professional
advisor, provider of financial services, lawyer or scholar, this
conference series will address the key issues in art investment
today. Through presentations, Q&As, panel discussions, and
workshops, industry experts will share specialist advice and insights
on many of the key factors in art investment – including
the latest updates in legislation.
At the Institute of Contemporary Art, London
Art finance and law – London – 26.11.2014 – Copy of the conference file
Categorised in: Past events, Events